A 1949 Cadillac Club Coupe, restored by Anderson Automotive Enterprises, was granted a Palmetto Award by the Hilton Head Judges for its quality of restoration and authenticity.
The car was also selected to participate in the Aero Expo the day before the Concours where it was paired with a1949 Piper Cub PA-17 Vagabond. The Vagabond was an improved version of the PA-15 launched in 1948 that offered improved aerodynamics for increased speed and maneuverability.
The 1949 Cadillac was also an improved version of the 1948 Cadillac. Harley Earl, Cadillac's design chief, was enamored of aircraft and modeled the first all-new post-war design on the P-38 Lightning twin-engine fighter aircraft that saw action in the Pacific during World War II. The tailfins on the 1948 established a styling element applied by all car designers through the 1960s and beyond.
1949 marked the introduction of Cadillac's ground-breaking overhead valve V-8 engine. The 331 cubic inch engine shaved 200 pounds from the long-used Cadillac flathead V-8. Because of this engine and other improvements, the 1949 Cadillac is recognized as one of the most significant and influential automobiles of the twentieth century.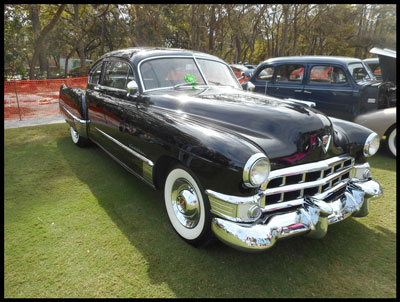 [Click on photos to enlarge]