The 1958 Cadillac Fleetwood Sixty Special prepared by Anderson Automotive Enterprises was chosen by Hilton Head judges for the quality of its preservation.
The car's owner, its fourth, opted to preserve instead of restoring the 32,000 mile original given its overall excellent condition. The Peacock Poly paint and turquoise leather and black brocade interior needed only careful cleaning. The rest of the car was also in excellent condition including the "like new" primer on the bottom of the body. However, the consumables associated with good maintenance had been replaced without regard to authenticity.
Therefore, AAE replaced spark plug wires, hoses, clamps, battery and the like with authentically-correct items. The engine compartment was thoroughly cleaned, as were the wheel wells. Several features were no longer operating as intended. The proper operation of these features were restored - power trunk, power door locks, windshield washer, and clock. A complete, authentic exhaust system was installed, including the unique steel spiral wrap on the headpipes.
The Hilton Head Concours d'Elegance judges reward authenticity and historical correctness along with the condition of the exterior, interior, engine, and chassis. Judging also includes demonstration of engine operation and the operation of all power features, lights, etc.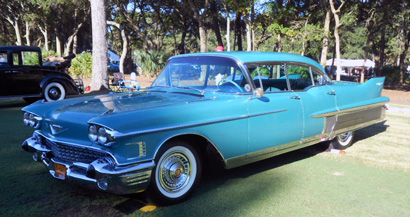 [Click on photos to enlarge]