Anderson Automotive Enterprises recently completed the restoration of a 1963 Cadillac Park Avenue Sedan de Ville 4-door hardtop that was judged First in class at the 2013 Cadillac & LaSalle Club National Meet in Quincy, Massachusetts on August 3. It also scored 96.5 points out of 100 to qualify as Senior Car.

Cadillac specifically designed this car with a shorter rear deck and subsequent less over-all length - but with full interior roominess - to enhance maneuverability to particularly appeal to women drivers. Special interiors were also designed to appeal to a woman's sense of fashion - this car includes patterned black cloth with white leather bolsters.

Just 1575 Park Avenue models were produced out of the nearly 80,000 de Villes manufactured in 1963. This low mileage car (30,000) was restored to like it came off the assembly line, but the original spare tire with the sticker still attached was retained.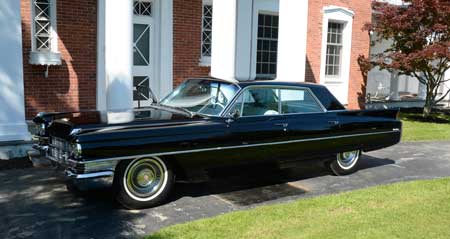 [Click on photos to enlarge]

Details on this project will be
posted soon in Project Profiles