The Assignment
This car had a badly worn engine and a slipping Dynaflow automatic transmission. The engine compartment was in poor condition, the result of nearly 50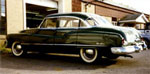 years of neglect. A backfire had charred the underside of the hood. The owner loved this car and wanted one which would perform as intended and have a correct appearing engine compartment for display at carshows. Although the original exterior finish was presentable from a distance, there were many flaws. Nevertheless, the owner stipulated that the exterior of the car was to be left in its original condition.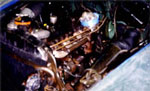 Work Performed
The engine and transmission were removed along with all related components and accessories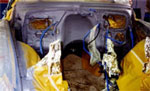 after a gross cleaning of the engine compartment. With the engine removed, the engine compartment was thoroughly cleaned. Then, the exposed metal was cleaned of rust, primed, and painted the correct colors — mostly semi-gloss black with matching green lacquer applied to the firewall and fender edges which over lapped into the engine compartment.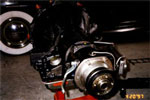 The Dynaflow transmission was completely disassembled and rebuilt. Then, the exterior was cosmetically restored to as manufactured appearance.

The engine was completely disassembled, cleaned, and machined.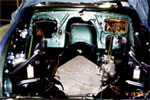 New bearings, piston rings, valves, valve springs, and restored hydraulic valve lifters were installed along with a restored camshaft and crank shaft. All engine ancillaries — starter, generator, carburetor, water pump, fuel pump, radiator, and distributor were restored mechanically and cosmetically to as manufactured condition.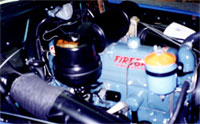 A new engine compartment and forward wiring harness was installed along with new ignition and battery wires. Piping in the engine compartment was renewed. All ducting was replaced.

The completed engine and transmission were installed in the restored engine compartment and connected using correct hose clamps on new hoses. All appropriate decals were installed on the engine and in the engine compartment.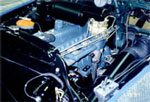 The backfire had also damaged the air cleaner requiring a complicated restoration.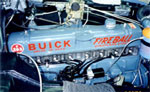 The underside of the hood was cleaned to bare metal to remove the results of the fire and rust. Then, it was primed and painted semi-gloss black all the while protecting the existing exterior finish from damage. The hood was completed with the application of fiberglass insulation in the correct pattern copied from a well-preserved 1950 Buick.

Approximately eight months were required to complete this restoration.