Buick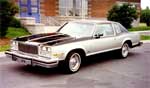 assembled 2899 special Rivieras to commemorate its 75th anniversary. These cars were painted using a special Designers' Accent paint in black and silver. The exterior also included special LXXV medallions and a brushed chrome grille cap. The interior received several modifications including: brushed chrome finish on the dash panels and door panel trim, tufted gray leather upholstery accentuated with black piping, gray fur carpeting; gray seat belts, and unique door panel upholstery in gray. Like other 1978 Rivieras, there was a wide range of options and most LXXV models were highly optioned.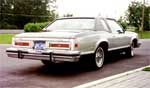 The Assignment
This car was originally purchased by an Iowa farmer, who used the car as a daily driver. After three years and the associated hard use in the Iowa farm environment, he gave the car to his daughter who used it as a daily driver for eight more years, racking up about 100,000 total miles. Instead of trading in the car, she opted for its restoration.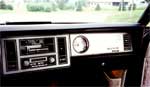 The car has the optional 403 CID engine, authentic wire wheels by Dunlop, full vinyl top, all available power accessories, a then unique AM/FM Stereo with 8-track tapeplayer and CB radio, cruise control, sport mirrors, and leather-rimmed sport steering wheel.
Work Performed
Typical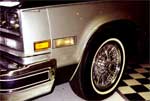 of cars of this period, the paint was in poor condition as was the chrome. The car was completely repainted and all chrome redone or replaced with quality new old stock (NOS) pieces. Special efforts were expended to preserve the original tape accent stripes at the top of the fenders and doors. The vinyl top was removed, the top metal cleaned and painted, and then a new vinyl top with the correct grain pattern installed. The wire wheels were completely rebuilt with stainless steel spokes by Dayton Wire Wheel and period correct, NOS tires installed.
The engine and transmission were in generally good mechanical condition. Therefore, the engine only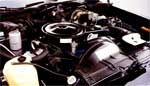 needed restoration of the ancillary components and a thorough tune-up. The engine compartment was completely cleaned and subjected to a comprehensive detailing.
The chassis was in generally good condition. All components were thoroughly cleaned, painted as appropriate, the brakes were restored, and the steering components restored and aligned to provide like-new performance.
The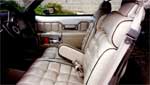 interior was complete and in generally good repair, but dirty. Minor tears in one front seat were fixed by replacing it with an undamaged used seat and all upholstery thoroughly cleaned. Replacement carpeting for the unique light gray wool carpeting is not available. However, with careful hand cleaning, that required many hours, the dirt-embedded carpet was restored to its original texture and color. The door panel top moldings are a poor quality plastic and, like many, they had cracked on this car. NOS replacement moldings were obtained and installed. New carpeting was installed in the trunk and associated trim restored. The original spare remains with the car in its unused condition.
Approximately twelve months were required to complete this restoration. This car has been judged a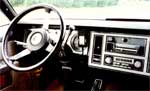 Senior car by the Buick Club of America, garnering 398 out of a possible 400 points. Slight wear on the dash panels and the steering wheel leather cover accounted for the deductions.