This Project History illustrates the work Anderson Automotive Enterprises often performs to maintain collector cars; we do more than just complete restorations. It also illustrates one of the short comings of many collector cars — poorly maintained suspension and steering systems.
The Assignment

The current owner purchased the car from a multi-car collector who done enough work to make it a "driver" quality appearing car. A "driver" is what the owner wanted, but he found the car unnerving to drive.
[Click on photo to enlarge]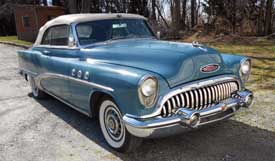 After the owner had a chance to drive the car for some time, he wrote, "With the rebuilt suspension and steering, the car runs tight and well with no defects. A quality job, well done; I am completely satisfied."
Details on this project follow:
Suspension Work | Brake System | Steering and Final Work